Sea container delivery and removal
Safe Sea container delivery or removal is the first question comes in brain at the time when anyone is happy about buying / selling some goods for home, belongings, machine or container for house or any commercial purpose. We all are happy up to container is in ship but when it comes on road, the thought shivers, that whether:
Our goods will reach or not?

If goods, machine or belongings are safe in container?

If the body of the container will be same as manufactured and painted in manufacturing unit?

Site access?

Whom to contact for insurance?

If there are any legal formalities for transport of sea container?
Ezitow is there for all honest solutions to  unnerving task which might take your valauable time and at least cost. You have to call Ezitow and we are responsible for the safe, insured, legal formalities approved sea container to be delivered at or removed from your desired location.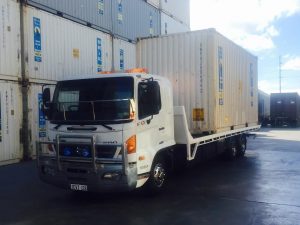 Happiness is seen and appreciated when the shipping containers is transported to your plot of land and converted them into your new home. Your family is happy with the belongings. Also the sellers are happy that the customer will provide the repeat business. It will be win-win situation.
We are ready to cater variables size of International shipping containers. Also, they get passed through international Standards Organization. These containers are especially designed to fit right in the hold of a ship. Ezitow provides professional services for sea container delivery and removal. Ezitow offers exceptional service at very competitive price.
Ezitow Offers Safe Delivery and Removal
If you require safe transportation of your sea containers in Australia then you must consider the services from Ezitow. As our team of professional and experienced workers are there to offer you reliable and speedy services. Our skilled team operates a range of professional equipment, as well as our fleet of nicely maintained transportation vehicles makes the sea container delivery and removal efficient and safe. Our team of professional is well trained for removal and delivery of any type of large-scale and bulky items.
Ezitow is Well-Equipped
We utilize cranes to lift the container of plus size and tilt tray trucks are used for transportation of goods. Our team is always on their toes to provide you efficient service and we make it certain that your containers reach the destination safely in time and in excellent condition.